What a hectic day!
Today (15
th
December 2008) I went out on what was meant to be a Christmas shopping trip to the newly open Westfield shopping centre in Shepherds Bush.
I was elated to find some birthday money from a family friend so I definitely knew where I was going to spend that money.
With all good intentions we marched into the shopping centre only to find that we ended up in MAC. What a surprise.
I've been wanting to buy a new foundation for a long time and with much discussion with the girls at the counters (who by the way were really intimidating and not very nice at all) we discovered that the Face and Body foundation is best for me as it gives very sheer coverage. I'm one for a very natural face which is why I've got into this habit of mixing my foundations with my moisturiser. Now I don't think I'll have to. The F&B foundation gives a very natural dewy glow; while it doesn't cover up the few blemishes I have, it really does even out my skin tone and moisturise my face.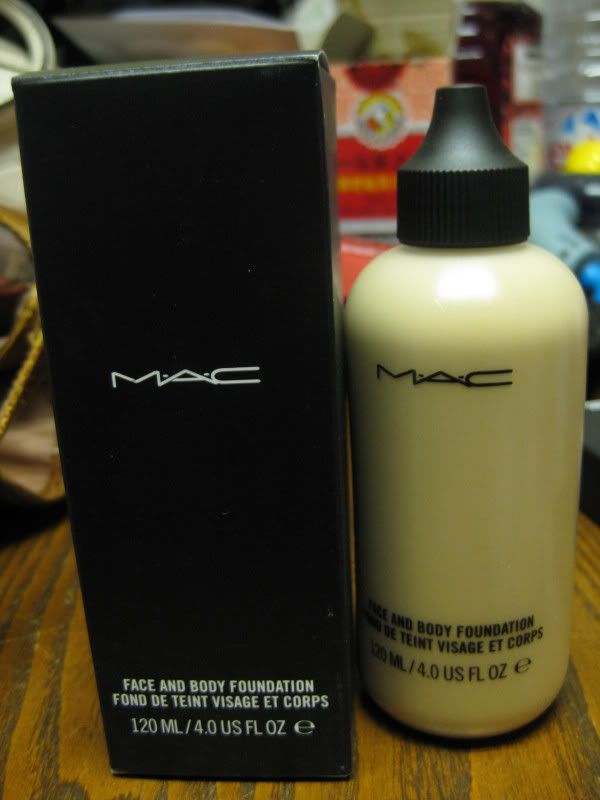 The water-based foundation is incredibly versatile in that you can apply it to the body. The texture is runny and when applied it feel like a moisturiser. I would certainly
recommend it for those who like the breathability of a tinted moisturiser but who also wants a slight more coverage and great even skin tone finish.
Here's the deal of what happened. I was being assisted by a girl who I suspect was new to MAC and she didn't seem to quite know what she was doing, she probably knew as much as I did (which is practically nothing). She somehow managed to convince me (I don't know WHAT was wrong with me today) that I was a medium deep for the Mineralize skinfinish natural powder. This is definitely too dark; it'
s the same colour as my bronzer! I remember looking at it in the shops wondering why on Earth I was buying this. I even tried it on and I don't know why but at the time it looked right. But I gave it another look and was comparing it to the usual Estee Lauder I use at home and just couldn't work it out. Needless to say when I took it home I saw it properly and now I'm just a bit miffed.
But at the same time it's a beautiful bronze colour and I know I could do a good contour with this. After all I still have my old powder left and if I have some money left over, I can still buy the right powder back at my own shopping centre (where the girls are really lovely).
Also from MAC I decided to buy the warm eyes palette which I have been dreaming of since it has come out. Out of the holiday collection palettes this was the best for me and I especially adore Real Drama (which is the gorgeous plum colour) and Grand Entrance (the luscious green at the bottom). At least I think that's the names.
With much satisfaction (at the time) we headed off, convinced we were going to do some proper shopping, only to find ourselves
in none other than Boots. I've been a Boots junkie since I started getting pocket money which was probably when I was eleven years old. I didn't want to buy anything seeing as I just bought make up and then I remembered I had about £20 worth of points on my Advantage Card. And with that, I headed off to look around.
Originally I wanted to buy more shadows from Urban Decay but although I do adore all the colours, I know it'll be rare for me to use them and I would rather I invested it in products which I will use. I try not to collect items for the sake of it, all the items I have, I use, otherwise it's a waste of money. Although those eyeshadows look amazing and I certainly wouldn't say no to them as a Christmas present.
I ended up at Maxfactor which is one of my favourite make up brands. I'm a seriously big fan of their lipfinity colour & glosses and I purchased #58 Crystal Bronze which is a beautiful nude with a pink undertone, it also has a shimmery gloss to put over on top. These glosses are truly fantastic quality; they have amazing staying power and the texture is silky and not sticky. I absolutely adore them. I think next I will buy the Coral coloured one- it looks fantastic for the winter months seeing as I'm not a red lips fan so coral will be a lovely compromise.
I also got a Miracle Touch Creamy Blush in #14 Soft Pink. This is comparable to Mac's Virgin Isle Cream Blush (I think that's the one) but while the Miracle Touch cost something along the lines of £8.99 the Mac Cream Blushes are over £11. In saying this though, you get a hell of a lot more product with the Mac. The Miracle Touch is the size of a small eyeshadow.
With a purchase over £15 I was able to receive a free gift which includes a DVD , Nailfinity nail polish in Ruby Fruit 900, Lasting performance foundation in Natural Beige 106, mini kohl eyeliner pencil in black 20, colour collection lipstick in midnight plum, a mini mirror and an Earth Spirits eyeshadow in Onyx 110. Nailfinity Ruby Fruit is a deep berry colour which is a great twist from your usual reds and berry reds because it has a more plum/purple tone to it. I'd much rather wear a plum or a brown as opposed to a black or a red because these are much more subtle for the Christmas holiday- red can sometimes be too overbearing with everything decorated in red anyway.
I don't know if anyone else thinks the same but, I really hate the Max Factor Blush packaging. Some of their packaging is great but some of it looks so cheap and tacky... that really puts me off. Sorry that was such a random thought.
I also ended up at Shu Uemura which was in House of Fraser and I purchased the UV under base which is supposed to even out skin tone, balance oils, lock in moisture, protect the skin from UV rays and prime the skin ready for make up.
The assistant told me that he is a freelance wedding make up artist and this product really keeps make up looking fresh all day and I think that really pusuaded me. Originally i was going back to buy the Complexion enhancers because I loved it so much but he said to me he recommended I buy the base as it does the same job but even more; especially as the enhancer is for those with lots of red blotches and I don't have too many (but does he knows I was wearing make up and concealer?). I decided to go for the base in the mousse form at £21.50. I will do a review soon.
I also purchased the High Performance Balancing Cleansing Oil Fresh 450ml. This product will be used in place of a make up removed and face wash in the evening. I was told this does wond
ers and my sister has tested it tonight and we were delighted at how refreshed her skin looked afterwards and that there was no trace of make up left. While i have not tried it myself i cannot give an opinion except that I have tried a sample cleansing oil before and it did a great job of balancing the oils on my face, removing make up and keeping moisture locked into my skin. The great thing about this product is that you really get good quality and you get what you pay for; you don't even need to tone after this it's so brilliant. I shall do a review on this soon too. I also got a few freebies too :)

I think that on all was my haul. I realise I don't update my blog half as much as I should but now that I'm on holiday I can and writing this entry has made me remember how much I love writing. Or typing I guess.
Happy Holidays all!

Helen